10 Most Unique Ski Resorts in North America
Every resort throughout the world holds a special place for someone. In North America, some stand out among the crowd. Not just because of their snowpack but because they offer a little something different than most. In this post, discover a few one-of-a-kind ski resort destinations that you can visit this season. These resorts hold something special about them, which is why they all made our unique ski resorts list. Here we present what we think are the 10 most unique ski resorts in North America.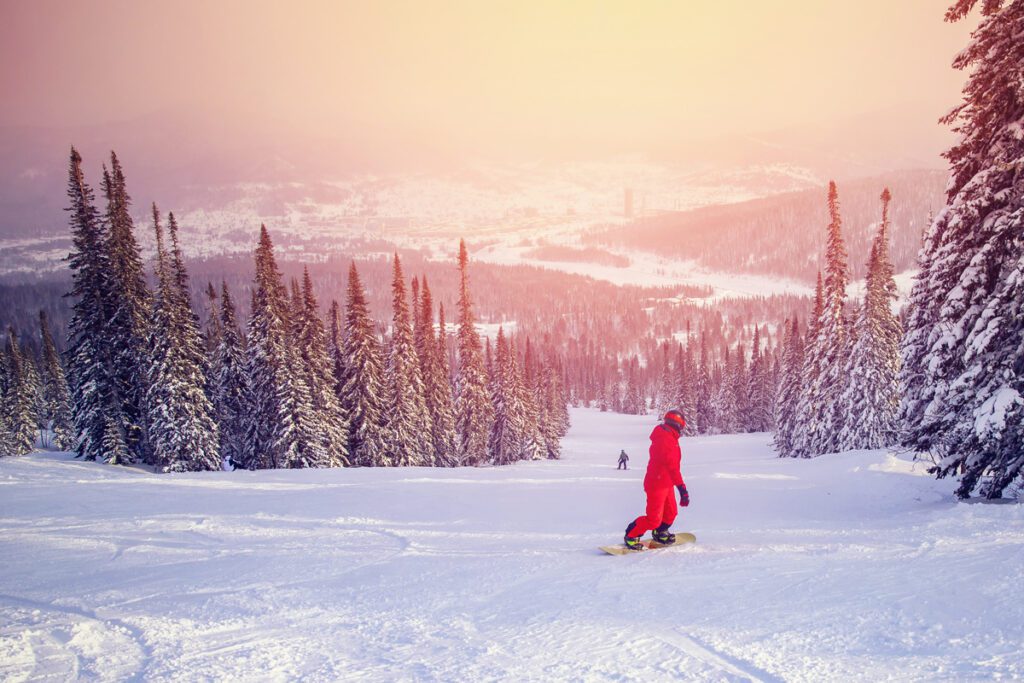 1. Silverton, Colorado
Close your eyes for a second. Now breathe in and out. Can you hear that? The great sound of nothing is all around you because you're more than likely one of the only people riding down the mountain. Silverton is a magnificent resort that's not for the weary. It tops our list of the most unique ski resorts in North America for a number of reasons. There's a lot of room to roam with 69 runs, a base elevation of 10,400 ft, and a lift-serviced vertical drop of 1,900 feet.
The resort, which only has one chairlift, is unlike any typical experience skiers will experience. The only chairlift on the resort takes guests into a high alpine environment and is specifically geared toward advanced and expert skiers. On average, Silverton caps the number of unguided skiers to 475 daily and usually sees less than 80 on the mountain!
Opened in 2002, this extreme and adventurous unique ski resort is aware of how careful people must be while navigating such steep and wild terrain. Each skier is required to carry an avalanche beacon, probe pole, and shovel. Rentals for this equipment are available on the mountain and guided tours, as well as heli-skiing, are available. The soul of skiing at Silverton is alive and well, making it the perfect getaway for those looking for an extreme challenge. It's also the best place for individuals who would instead set up a tent and enjoy the crisp chill of the air over staying in a lodge. This resort is unique in its demands for skiers, but people are ready to meet them head-on every time.
2. Alyeska, Alaska
Anyone looking for unique ski resorts with deep snowpack and steep terrain is in luck at Alyeska. Skiing in Alaska is an incredible experience, and there are a few differences you'll notice right away when you're there. Like how late in the day the ski lifts begin to operate. You won't see them start running until 11 a.m., and they typically stop around 6 p.m. Since there's plenty of light during the winter, it's no surprise that the times are just a little different than most.
In the spring, snow might peter across the U.S., but you can't say the same for Alyeska. Snow is still cold and will continue to pile up, so you'll still benefit from deep snow outside the traditional ski season.
Alyeska holds a lot of frontier-esque qualities about it, drawing people in year after year. Guests can see the ocean from the peaks of the resort and also sleep at sea level, which isn't something you can generally do. Before you even get to Alyeska, everyone can view iceberg floes and whale sightings because the highway runs parallel to an incredible sea inlet. Even if you're only visiting for a few days, you're getting more than you bargained for. No two resorts are alike, and Alyeska is a wild, beautiful, and impressive one with which you'll fall in love.
3. Mad River Glen, Vermont
There's nothing mad about Mad River Glen, except for maybe those who didn't pack enough clothes for their stay. Like Alta and Deer Valley in Utah, Mad River doesn't allow snowboarders on the slopes. And while that is quite the tragedy, there's so much more to this fantastic ski resort vacation than meets the eye and for some this exception earns it a place in the unique ski resorts list.
Known for being a "place where skiing is still a sport, not an industry," Mad River Glen keeps the spirit of skiing alive through unconventional means. Instead of being owned by a larger corporation, it's owned by a co-op. Through decisions made by the co-op, the resort has been steadily updated over the years, but also maintain an old-school vibe that other resorts don't have.
They have kept the charm and feel of everything on the mountain as it was way back when, even down to an old single chair that used to run on diesel fuel. Instead of replacing it, they converted it into electricity so guests could experience a taste of history. Guests can feel the vibrant passion of staying true to the nature of the mountain through quirky (and perhaps defiant?) moves like this one. If you want to take a stroll down memory lane, ski great powder, and take a break from traditional ski resorts, you'll want to book a trip to Mad River Glen.
4. Snow King, Wyoming
When someone thinks of ski resorts in Wyoming, the first name that might come to mind is Jackson Hole. While it's true that Jackson Hole is one of the most popular places in the area, people tend to overlook Snow King, where guests can go to avoid some of the larger crowds.
Known as one of many town hills, Snow King truly takes the cake regarding its slopes. They not only skirt the town of Jackson, but they drop right into the heart of it. If it were a fresh powder day and no one shoveled their driveways, technically you could just ski right up to your favorite dining spot. How incredible would that be?
The resort has no beginner slopes, and 60 percent of the mountain is rated expert, so newbies need not apply which is one of the reasons we chose the place to be on the unique ski resorts list. Not to say there aren't other areas for those who aren't as adventurous to take advantage of. While not the most family-friendly ski resort, Snow King still proves to be a worthy destination for snow lovers ready for a unique vacation. And you're not going to want to miss exciting features of the resort, like a 1,571-foot vertical drop, night skiing six days a week, and an ice climbing park.
For those new to Snow King, locals and true fans of the resort feel that "skinning the King" is the best way to experience the mountain. Going uphill rather than down is its own experience, but it has specific rules. Their resort holds a stringent uphill policy, requiring all travelers to display their pass or ticket on their person. During operating hours, everyone must stay on the approved uphill routes, allowing more people to enjoy their skinning rather than take a chairlift. This respect for the ultimate skiing experience is greatly appreciated, and why Snow King might be the place you set your sights on for a different but just as enjoyable time while in Wyoming.
5. Revelstoke, British Columbia
Though it's been open since 2007, Revelstoke is still just a tiny baby ski area next to the rest of the major resorts in North America. But that's where the little comparisons end because it features the most remarkable vertical drop (5,620 feet), an average snowfall of 34 feet, and 3,121 acres of gladded terrain. It's enough to make your eyes tear up just a bit.
Revelstoke offers many of the same things you'll find at larger ski resorts: great dining, mountain tours, and a ski school to help you hone your skiing abilities. But they differ because they plan on being even larger than life. They continue growing the size of their skiable acreage while maintaining a boutique-like feel similar to Telluride. It's a big feat, but Revelstoke is about going for the gold. You can sit in the lap of luxury at this resort and make bold ski moves on the snow at this ski vacation spot that's pulling out all the stops.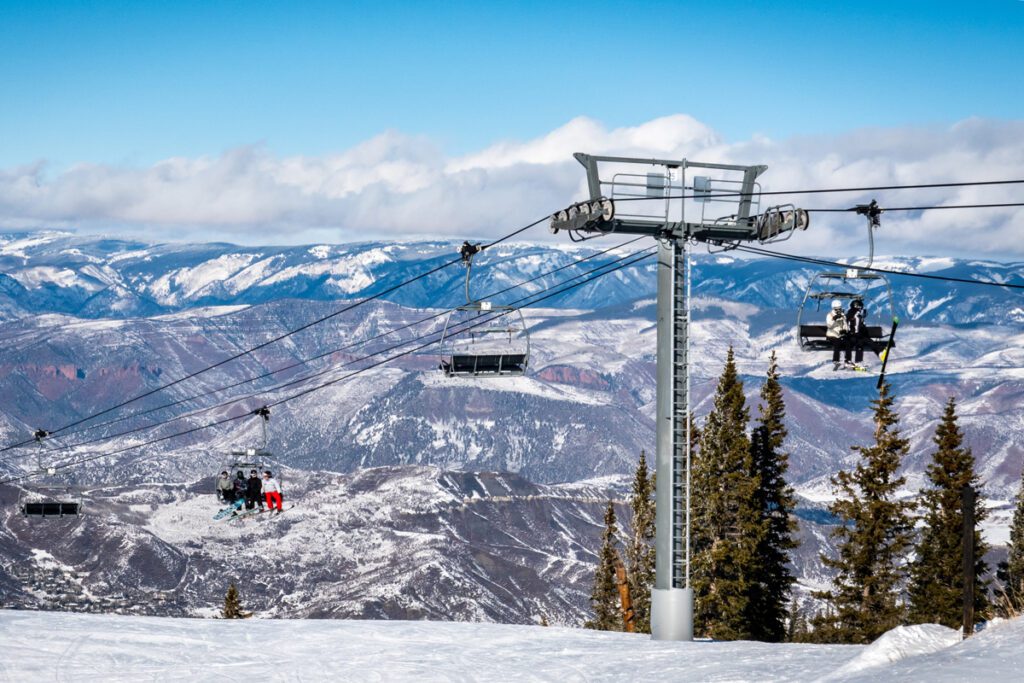 6. Copper Mountain, Colorado
One of the best things about Copper Mountain is that it has a year-round snowboarding camp known as Woodward Copper. And while some might scratch their heads as to why it stays open all year, die-hard snow fans know how this benefits everyone. The Woodward Copper Barn, a 19,400-square-foot indoor training facility, caters to all those who want to keep their skills sharp for the ski and snowboard season. There are skate parks, Olympic-grade trampolines, foam pit jumps, indoor ski/snowboard training, and more. Imagine a giant playground for kids and adults alike, and you've essentially envisioned what the inside of the building looks like.
Whether you're interested in perfecting on or off-hill training, you'll have plenty of room and opportunity to do so through a day or weeklong camps. Their state-of-the-art training tools can help you achieve your goals. No matter your age, guests at Copper Mountain can achieve their dreams, find personal growth and realize their full potential. So while you're there this season, you can take advantage of Woodward Copper and help yourself (or the younger skiers in your life) by booking a session or two. The experience will be one you won't be able to find anywhere else, which is why we had to choose this location as one of the most unique among North American Resorts.
7. Banff, Alberta
Ok. So the town of Banff isn't technically a ski resort in its own right, but it made the list because of what's around it. Banff is an intriguing destination and sits within the massive Banff National Park. Visitors will find curving roads that display breathtaking mountain views from every angle. But the best part about Banff is its proximity to not just one but three epic ski resorts that are incredibly close to one another, not to mention the 15+ peaks and mountain areas in the same location.
To truly wrap your head around Banff skiing, it's best to break down the locations they are known for: Norquay, Banff Sunshine, and the Lake Louise Ski Area. At Mt. Norquay, guests are treated to a small, family-friendly resort with the only night skiing in the Banff-Lake Louise area. Its relaxed vibe is a perfect fit for every type of skier and is easily accessible, only five minutes away from Banff.
Banff Sunshine receives the biggest powder dump yearly and boasts the most extended snow season in the Rocky Mountains. Every gondola ride holds majestic views and the best skiing conditions around. Lake Louise is every pow-lover's dream! The runs are exceptional, and the resort is just the spot for intermediate and advanced skiers and riders to explore. After all, you've got 4,200 acres of skiable terrain to see, so you'll be busy for quite some time.
8. Diamond Peak, Nevada
Diamond Peak is a great stop for families who include their kids in all the winter fun. They have the fourth longest vertical drop at Lake Tahoe, 655 skiable acres, and seven lifts; one being exclusive to the Child Ski School Programs. The School House beginner chair services a run of the same name for those building up their skills. Even the towers have been shortened, so young riders and beginners are at most 15 feet off the ground. Unloading and loading ramps are also mellow so kids can feel confident on the mountain.
Adults and those who want challenging terrain can find plenty of options and two terrain parks. Guests can head to The Village Terrain Park, which will be accessible from all mountain areas. Master your skills and explore more of Diamond Peak while you're at it! For more nonstop fun of the mountain, guests can visit The Incline Village, a 5-minute drive from the resort's entrance. You can hit up casinos like the historic Crystal Bay Club, eat at an assortment of delicious ethnic and lake-front dining, or peek inside the specialty boutique stores!
9. Brundage Mountain, Idaho
For the best snow in Idaho, you must make a trip to Brundage Mountain. That claim is actually a part of their slogan, and it makes sense that they get to boast this fact. Their powder-packed glades are constantly and neatly groomed and 320 inches of annual snowfall make them the ideal spot to ski.
The resort also offers guided backcountry trips on 18,000 acres for thrill-seekers and action hounds. Guests don't have to wait long for chairlifts, as their lift capacity moves close to 7,900 skiers per hour. It's a tall order they meet well because the independently owned resort isn't about cutting corners when delivering the best for their guests.
Beginner skiers can rest assured that there will be slopes they can conquer too in the Easy Street and Beartopia Family Fun Zone. Easy Street has incredibly wide-groomed runs and is the perfect place for new shredders, big and small, to try out.
Brundage Mountain is unique for many reasons, but none more than how the true spirit of skiing has been woven into the very fabric of its history. In the early 1900s, the townspeople of McCall were fortunate enough to be the home of a few big dreamers. Businessmen Warren Brown, Jack Simplot, and Norwegian ski champion Corey Engen had a mission to create a bigger ski mountain for everyone close to town. Their vision became realized in 1961 after two years of researching, planning, and arranging financing to secure a premier spot for the resort. Since then, skiers and snowboarders have found the light, deep powder at Brundage to be some of the best the state of Idaho offers.
10. Palisades Tahoe, California
Some would say that it's not fair how many excellent ski areas exist around Lake Tahoe, while locals think it's the best thing about the place they call home. It's not their fault they hit a geographical gold mine (figuratively speaking, of course). Palisades Tahoe, formerly known as Squaw Valley, has long been a place of wonder and winter delight. It offers abundant snow and sunny, clear days, and astounding views, specifically when traveling on their aerial tram ride. The tram soars 2,000 feet above the ground and gives you a bird's eye view of the entire mountain.
Few resorts offer the kind of deep pow turns and wide-open groomers that Palisades Tahoe does. It's just one of the many reasons why they are incredibly proud of the type of experience they've maintained over the years. From luxurious spa treatments to magical dining and après, Palisades is a paradise for skiers everywhere. Freestyle skiers worldwide have made it their home, and who knows? You might too. The atmosphere is that compelling! Experience six mountain peaks and more than 170 trails while at Palisades Tahoe and visit nearby Truckee, which has some pretty great vibes to extend the feeling you get when you're on the mountain.