5 Ski Resorts for Day-Trips from Denver
Day ski trips from Denver are a fun getaway. Here are our picks for the top 5 Denver ski areas, perfect for day trips with great skiing less than 90 miles from the Mile-High City. It's easy to wake up in the comfort of your own home, ski the area slopes, and make the return all in the same day.
Top 5 Ski Areas for Denver Day Trips
1. Eldora Mountain (50 miles from Denver)
Eldora Mountain leads our list of the top 5 Denver ski areas for day trips. It's unique because it's one of the few ski areas near Denver that isn't along Interstate 70. At Eldora, don't let the size fool you. Its 11 lifts provide access to everything from easy greens to gripping blacks and double blacks used as training grounds for the local university ski team. There's incredible glade skiing, broad bowls and more than 25 miles of Nordic and snowshoeing trails. It's also an excellent place for beginners to learn to ski.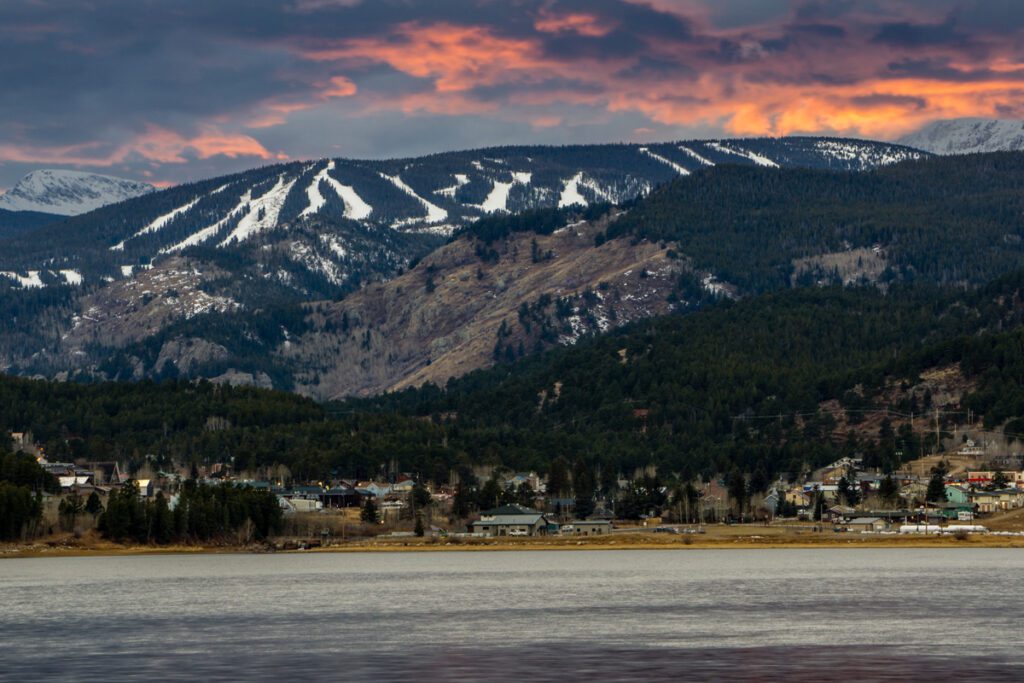 A fun day trip is to ski the fresh snow in the morning at Eldora Mountain and then explore the nearby town of Nederland and Barker Meadow Reservoir during the afternoon hours before heading home. The city has plenty of tasty, quick bites and delicious sit-down dining from which to choose.
Because of its proximity to Denver, Eldora can get busy during peak weekends. Early morning and weekday trips are a perfect time to experience the area in all its luster – crowd free.
Getting to Eldora
Eldora is about 50 miles from metro Denver in the foothills southwest of Boulder. Eldora Mountain serves up 700 skiable acres and has more than double the vertical drop of Echo Mountain, another nearby resort.
2. Loveland Ski Area (55 miles from Denver)
Loveland Ski Area makes the list of top 5 Denver ski areas for day trips because it sits where Interstate 70 and the Continental Divide meet. The reso has a small base lodge; most runs are above the tree line. Skiers love the big dumps, bluebird skies and convenience. Skiing Loveland means you won't get caught by mountain pass closures during winter because there are none between there and Denver!
Considered a locals' mountain, one of its main attractions is its free cat skiing every day during the season. Guests can ride the 18-passenger Ridge Cat and ski the Continental Divide in a setting like no other. There are some fun in-bounds bowls, over 90 named trails, and a challenging terrain park.
The base lodge has a few essentials, but you'll need to pack some heftier snacks or stop off at Georgetown, a few miles east of the resort along I-70. You'll pass Georgetown on your way from Denver to Loveland. It's an excellent place to fill up on gas, grab a meal or pick up other stuff you need. Through the tunnel, a few miles west, Silverthorne also has plenty of food options. Silverthorne is also known for its extensive outlet shopping.
Getting to Loveland
Located about 55 miles west of Denver along I-70, the ski resort presents breathtaking skiing above the well-traveled Eisenhower Tunnel. While cars pass through the mountain, skiers feast on heavy powder from mid-October through mid-May.
3. Arapahoe Basin (60 miles from Denver)
Of course, the further into the mountain you go, the more epic the skiing gets – and that's why Arapahoe Basin makes our list of top 5 Denver ski areas for day trips. Arapahoe Basin is where Class A skiing begins west of Denver. Known for some of the best steeps in the state, A-Basin offers heart-pounding terrain, a laid-back vibe and lots of deep powder only 60 miles from Denver.
A-Basin is mostly no frills – but nothing is needed when the fluffy white stuff is this plentiful. You won't need many diversions because you'll mainly focus on the fantastic skiing that's waist-deep on some days. Even though the resort is smaller than some major state resorts, it's still easy to make fresh tracks on untouched terrain every day of the season.
Arapahoe Basin is a haven for intermediate and advanced skiers who want to push the envelope. There is no fancy base area or other attractions – it's all about skiing and good vibes. The resort has one of the longest ski seasons in Colorado and some of the highest skiable terrain to boot. The best part is that you can ski A-Basin from late October through late June (or even longer).
Getting to Arapahoe Basin
To get to Arapahoe Basin, take Interstate 70 west, turn south on Highway 9 just before the Eisenhower Tunnel, and take Loveland Pass to A-Basin. Keep an eye on the local weather because Loveland Pass can close during inclement weather, and you'll have to make a considerable detour. Dining and amenities are sparse at the resort, but you'll find everything you need further down Highway 9, Silverthorne, or Georgetown.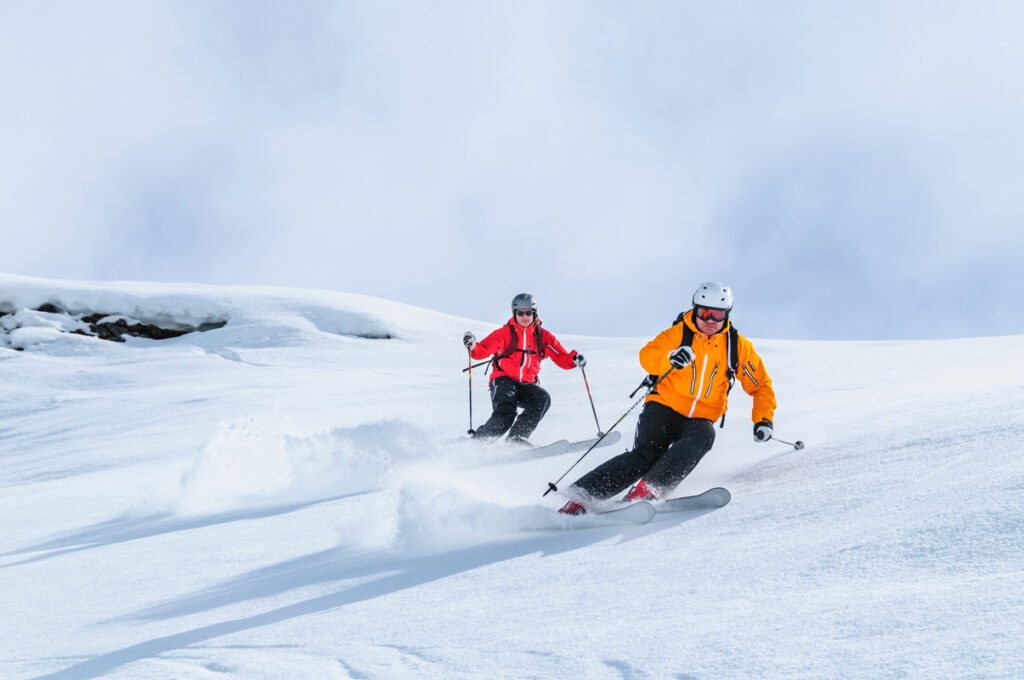 4. Winter Park Resort (65 miles from Denver)
Winter Park is the longest continually operated ski resort in Colorado. It's a family-friendly world-class ski area known for its deep powder and steep mogul runs. So it deserves to be on this list of top 5 Denver ski areas for day trips!
Advanced skiers salivate at the marvelous bumps on Mary Jane, the wondrous glades at Eagle Wind and the plethora of powder stashes around the ski area's seven different territories. Beginners love the subtle,
wide-open runs for newbies and the expert ski school staff. Boarders and riders love the challenging terrain park.
There's added fun at the base area, where visitors can ice skate, shop a little or schedule a relaxing spa treatment. There's also an excellent selection of dining options that range from fine dining to fun and affordable family restaurants. The base area isn't huge, but it has what you need.
Getting to Winter Park
Winter Park's convenience to the Mile-High City is two-fold. First, it's an easy 65-mile drive from Denver along Interstate 70 before turning on Highway 40 shortly after Idaho Springs. There is beautiful scenery along Highway 40 on the way to Winter Park.
If you don't feel like driving, you can take the Winter Park Express train from Union Station in downtown Denver directly to the base village at Winter Park. The Winter Park Express runs on Fridays, Saturdays and Sundays from January through late March. The comfortable train has comfy seats and a relaxing Lounge Car for drinks and snacks during the ride. Taking the Express directly to Winter Park is the best way to avoid bad weather, crowds, gas and parking. (Tickets are required.)
5. Keystone Ski Resort (80 miles from Denver)
Did you know Keystone Ski Resort was initially conceived to be the alpine venue for an ill-fated bid for the 1976 Winter Olympics by Denver? Keystone sits deep in the Rocky Mountains, presenting superb skiing, lots of powder, and an unparalleled terrain park. The large resort is one of North America's most family-friendly ski areas: There's easy terrain, night skiing, daycare options, excellent school programs for student-athletes and a bunch of kid-friendly food choices.
Experts rave about the tremendous black-diamond bowl skiing at Keystone: Independence Bowl, Bergman Bowl, Erickson Bowl, North Bowl and South Bowl. The acclaimed Area 51 Terrain Park has several skill progressions for both skiers and boarders. Beginners will feel comfortable for lessons at the dedicated Learning Area and broad trails.
Night skiing is one of the more popular draws at Keystone, as only some resorts offer that unique feature. Keystone has some of the most extensive night skiing in the state. It begins shortly after sunset and
continues until about 9 a.m. An excellent selection of easy and blue intermediate runs open at night. The trails are well-lit and offer a different perspective on skiing if you've never tried it. During the day, skiers and snowboarders can explore Keystone's expansive terrain.
Getting to Keystone
The ski area is 80 miles west of Denver on Interstate 70. Exit at Silverthorne and take Highway 6 south to the resort. Keystone is close to Arapahoe Basin, just a little further down Highway 6. It's easy to spend an entire day at both resorts with an overnight stay somewhere close. Breckenridge and Copper Mountain are also nearby.