Plan Your Vermont Winter Getaway Now
When winter arrives in Vermont, the state transforms into a captivating wonderland that beckons travelers from near and far. The landscapes are blanketed in pristine snow, and the historic towns exude a cozy charm that is simply irresistible. This blog invites you to embark on a journey to discover the magic of a Vermont winter vacation, a destination that promises unforgettable experiences and memories. Whether you're an avid snow sports enthusiast or seeking a serene escape from everyday life, Vermont has something special to offer.
From thrilling outdoor adventures to the warmth of local traditions, Vermont's winter getaway promises an enchanting experience. In this blog, we'll delve into what makes Vermont unique for a winter vacation, the top activities and things to do, the best ski resorts, and essential information to help you plan your journey to this scenic paradise. So, bundle up and get ready to explore the beauty of Vermont's winter wonderland.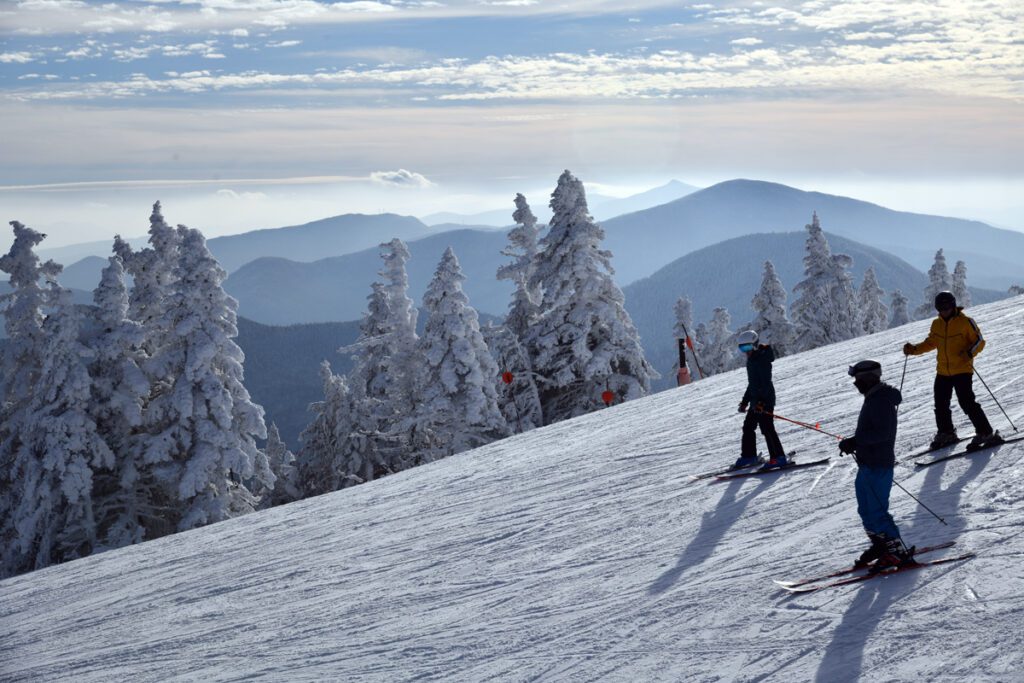 What Makes Vermont Special
Vermont's winter landscapes are the stuff of postcards and daydreams. As the first snowflakes fall, the state becomes a pristine playground for winter enthusiasts. The rolling hills, dense forests, and picturesque valleys are transformed into a shimmering wonderland, with snow-laden trees, frozen lakes, and the occasional covered bridge adding to the charm. This natural beauty sets the stage for an unforgettable winter vacation.
Cozy, Historic Towns
One of Vermont's hallmarks is its collection of charming historic towns. Places like Stowe, Woodstock, and Manchester are a winter enthusiast's dream, where quaint streets are lined with beautifully preserved colonial and Victorian-era buildings. These towns offer a warm and inviting atmosphere, perfect for sipping hot cocoa by a crackling fireplace or exploring boutique shops. The blend of small-town charm and winter magic creates a unique setting for your Vermont getaway.
Local Traditions and Festivals
Vermont takes pride in its local traditions and festivals, many of which are enhanced during the winter months. From tree lighting ceremonies to holiday parades, there's a sense of community that warms the heart. Don't miss the chance to experience Vermont's unique celebrations and seasonal events, which will introduce you to the state's rich culture and the genuine warmth of its people.
Culinary Delights
No winter getaway is complete without savoring the local cuisine, and Vermont offers a delectable array of options. The state is renowned for its farm-to-table dining, emphasizing fresh, locally sourced ingredients. Enjoy hearty comfort food like mac and cheese, pot roast, and maple-infused dishes that will keep you warm and satisfied throughout your trip. Don't forget to indulge in Vermont's famous maple syrup, a staple as sweet as the people you'll meet along the way.
Winter Activities and Things to Do
Vermont's winter activities and experiences are as diverse as the landscapes themselves. Whether you're an outdoor enthusiast or prefer cozy comforts, Vermont's winter wonderland has something for everyone to enjoy during your winter getaway.
Skiing and Snowboarding
Vermont is a haven for downhill skiing and snowboarding enthusiasts. With a diverse range of ski resorts scattered throughout the state, you can carve your way down pristine slopes, from beginner-friendly runs to challenging double-black diamonds.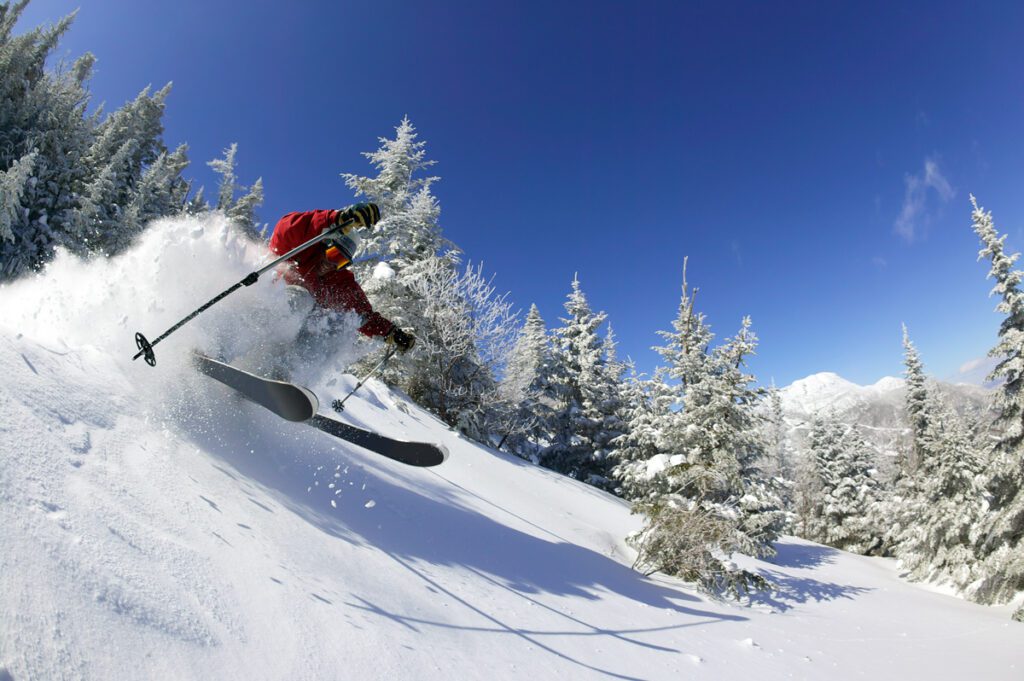 Cross-Country Skiing
For those who prefer a slower-paced winter adventure, Vermont offers an extensive network of cross-country ski trails. Glide through peaceful, snow-covered landscapes and enjoy the tranquility of the backcountry. Many resorts and parks provide equipment rentals and groomed trails for all skill levels.
Snowshoeing
Snowshoeing is an excellent way to explore Vermont's scenic wilderness. Strap on a pair of snowshoes and head into the forests, where you can observe the local wildlife and experience the serenity of the snowy woods. Numerous trails and guided tours cater to all skill levels.
Sleigh Rides and Winter Horseback Riding
Embrace the romance of winter with a horse-drawn sleigh ride. Snuggle under warm blankets as you glide through snow-covered fields, surrounded by the picturesque landscapes of Vermont. Some resorts and farms offer this enchanting experience. For the more adventurous, horseback riding on snow-covered trails provides a unique way to explore the winter wonderland.
Ice Skating and Ice Fishing
Embrace classic winter activities with ice skating on frozen ponds and lakes. You'll find ice rinks in many towns and at various resorts. If you're angling for adventure, try ice fishing. Vermont's frozen lakes offer excellent opportunities to catch fish through the ice, and local outfitters can provide the gear and know-how you need.
Winter Hiking and Snowmobiling
Strap on your winter boots and explore the scenic trails that Vermont has to offer. Winter hiking can lead you to breathtaking vistas, frozen waterfalls, and serene backcountry. For a faster-paced adventure, hop on a snowmobile and zip through groomed trails and open fields, enjoying the thrill of winter speed.
Visiting Maple Farms
Vermont is synonymous with maple syrup, and winter is the ideal time to visit sugarhouses and maple farms. Learn about the syrup-making process and sample the sweet nectar. Beyond maple syrup, explore local cheese and craft beer producers to taste Vermont's culinary delights.
Relaxing at Inns and Spas
After a day of winter adventures, unwind and rejuvenate at Vermont's cozy inns and spas. Enjoy the warmth of a crackling fireplace, indulge in a hot stone massage, or relax in a hot tub while enjoying the stunning winter scenery.
Best Ski Resorts in Vermont
These top ski resorts in Vermont offer a combination of stunning alpine scenery, excellent skiing and snowboarding opportunities, and a wide range of off-slope activities to create the perfect winter getaway for you and your fellow travelers.
Stowe Mountain Resort
Stowe Mountain Resort boasts an array of skiing and snowboarding terrain for all skill levels. With over 300 inches of snowfall annually and state-of-the-art snowmaking, you're guaranteed a fantastic winter experience.
The ski resort offers a variety of accommodation options, from luxury lodges to bed and breakfasts. The town's vibrant apres-ski scene includes an array of dining establishments serving hearty Vermont dishes and international cuisine.
Killington Resort
Known as the "Beast of the East," Killington Resort offers the most extensive ski trail network in the eastern United States. Skiers and snowboarders can enjoy a wide range of terrain, from beginner slopes to challenging double-black diamond runs. The resort is also renowned for its terrain parks and night skiing opportunities.
Killington's extensive snowmaking capabilities allow for night skiing and snowboarding, extending your time on the slopes. The resort hosts various events, from live music to seasonal celebrations, ensuring there's always something exciting happening.
Smugglers' Notch Resort
Smugglers' Notch is a family-friendly resort with dedicated programs and activities for kids, making it a top choice for family vacations. The resort offers diverse terrain for skiers and snowboarders of all levels, as well as snowshoeing and cross-country skiing.
The resort is known for its exceptional family programs, including ski and snowboard lessons for children, snow tubing, and a variety of indoor and outdoor activities to keep kids entertained.
Jay Peak Resort
Jay Peak is famous for its impressive snowfall, often exceeding 350 inches annually. This makes it a paradise for powder hounds. The resort also features some of Vermont's best tree skiing in its glades, creating an exciting challenge for experienced skiers.
For a break from the slopes, Jay Peak has an indoor water park where you can enjoy tropical temperatures and aquatic adventures, making it an excellent option for families.
Stratton Mountain Resort
Stratton Mountain Resort offers a variety of skiing and snowboarding terrain, with long cruising trails and challenging mogul runs. The resort's charming village is brimming with shops, restaurants, and lively apres-ski options.
The resort's village provides numerous options for dining, shopping, and entertainment after a day on the mountain. Whether you're looking for a cozy fireside meal or a lively night out, Stratton has you covered.
What You Need to Know Before You Go
Before embarking on your Vermont winter getaway, ensure you're well-prepared for the adventure ahead. By considering your clothing and gear, safety, accommodation, transportation, and local guidelines, you'll set the stage for a memorable and stress-free winter vacation in this charming winter wonderland.
Winter Clothing and Gear Essentials
Layering is key: Dress in warm, moisture-wicking layers to stay comfortable throughout the day.
Invest in quality winter gear: Proper clothing, waterproof boots, and insulated gloves are essential.
Don't forget accessories: Wear a warm hat, thermal socks, and UV-protective sunglasses or goggles.
Rent or buy: If you're new to winter sports, consider renting equipment until you know your preferences.
Weather and Safety Considerations
Check the weather forecast: Stay informed about daily and long-term weather conditions to prepare for changing conditions.
Safety first: Familiarize yourself with safety guidelines for your chosen winter activities, and always follow resort rules and guidelines.
Stay hydrated and protected: Cold weather can be dehydrating, so drink plenty of fluids and use sunscreen to protect yourself from the sun's reflection on the snow.
Planning Your Accommodations
Book early: Vermont is a popular winter destination, so secure your accommodation well in advance, especially during peak ski season.
Explore lodging options: Vermont offers a range of lodging choices, from luxury resorts to cozy cabins and vacation rentals.
Consider ski-in/ski-out options: If you're an avid skier, look for accommodations with easy slope access.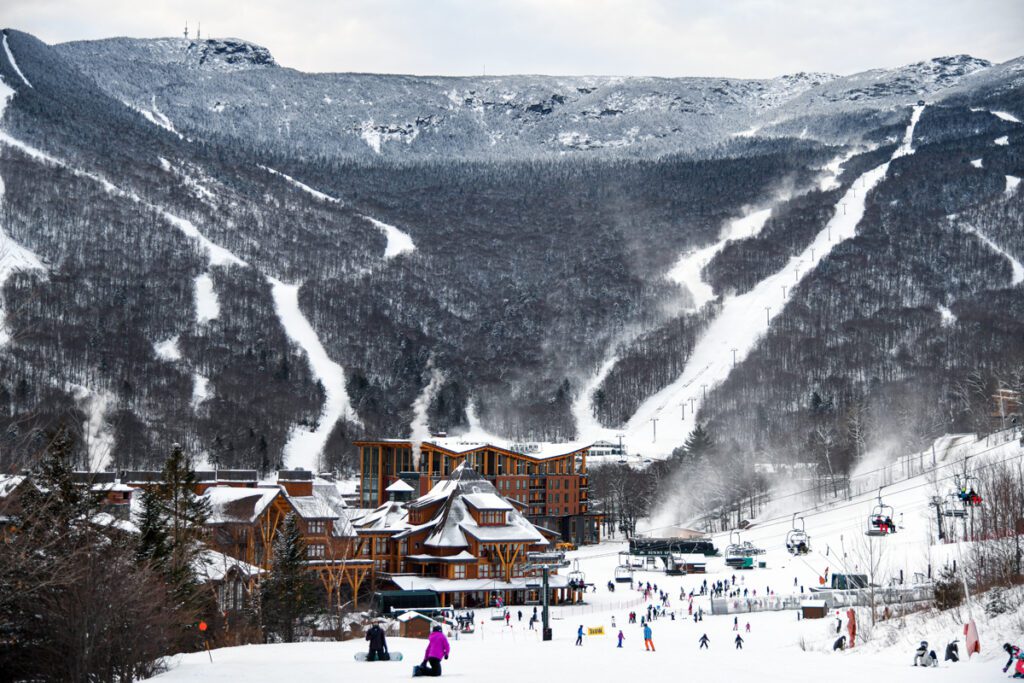 Transportation Options
Air Travel: If you're flying to Vermont, book your flights early and consider nearby airports for more flexibility.
Ground Transportation: If driving, ensure your vehicle is winter-ready with proper tires and equipment. Be prepared for winter conditions and check road closures and conditions before you go.
Booking Reservations and Tickets in Advance
Secure lift tickets: Buy ski lift tickets and make reservations in advance to avoid the crowds at the resort. This will also ensure you have everything you need, so there's no missing out!
Reserve activities: If you plan to participate in specific winter activities or attend events, consider making reservations to guarantee your spot.
Dinner reservations: If you have a favorite restaurant you want to visit, it's wise to make reservations in advance, especially during the peak of the ski season.
Local Tips and Recommendations
Connect with locals: Don't hesitate to ask residents for recommendations on where to dine, shop, and explore.
Embrace the local culture: Engage in traditional activities, attend local events, and try Vermont's signature dishes.
Be respectful of the environment: Vermont's pristine landscapes are a treasure; follow Leave No Trace principles and respect nature.
Money-Saving Tips
Vermont's winter wonderland offers an enchanting escape from the ordinary. Its idyllic landscapes, charming towns, and rich cultural traditions create a magical atmosphere that's hard to resist.
But here's the exciting part: you can make your Vermont winter getaway even more magical by saving money on various aspects of your trip. Whether you're looking to save on lift tickets, ski rentals, lodging, transportation, activities on and off the mountains, dining, or more, there's a solution for you.
Visit Skier Deals, your one-stop resource for discounts and promo codes, to maximize your Vermont winter experience while keeping your budget in check. With Skier Deals, you can uncover fantastic last-minute deals for anyone who wants to get away sooner rather than later.
So, don your winter gear, pack your bags, and start planning your Vermont winter getaway now! Make this the year you experience the magic of Vermont in all its winter splendor while keeping your wallet happy.