How to Store Your Ski Gear for Offseason
Unfortunately, the ski season must end at some point. When it's time to put away your winter gear, you may have some questions about how to best store your skis, snowboard or ski boots. There are a lot of different options out there to store your ski gear for the summer months depending on what type of winter equipment you need to put away. Below, we look at some of the best ways to store your skis and provide a few tips and tricks for storing all your gear.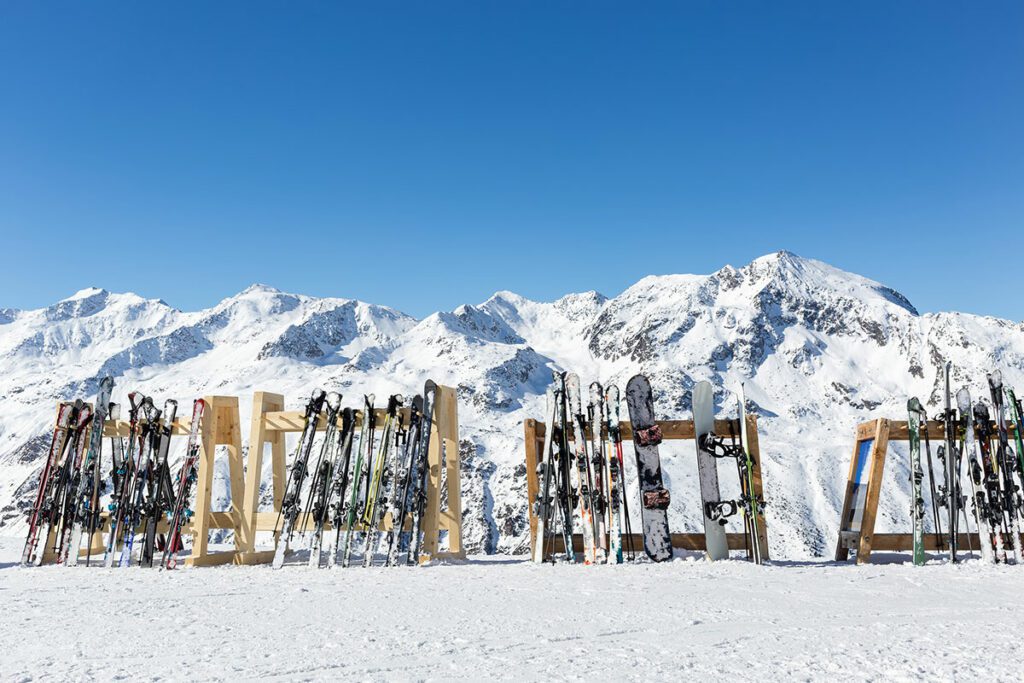 General Tips And Tricks
Let's start with some basics. Here are a few useful tips and tricks for storing your ski gear over the summer:
Clean Your Gear
Wipe down your skis or board to remove any salt, dirt or grime that accumulated over the season. You don't want to store dirty gear! Use a garden hose and a soft bristle brush to remove caked-on debris. DO NOT use degreasers or detergents of any kind because it can damage the binding lubricant. Use a dry cloth or towel to completely dry your gear before storing it away.
Inspect Your Gear
Before you put your gear away for the winter, be sure to inspect it carefully. If you see any damage, you may want to get it repaired over the offseason so it's ready to go for next year.
Wax on!
Apply a generous layer of warm-weather wax to the base of your skis or snowboard. You want to make sure it's thick enough to keep your base from drying out over the summer months. When it's time to ski, you can strip off the wax by using an iron – and then apply your temperature-specific wax for the ski season.
Skis and Snowboard Storage
Give your ride a once-over to make sure everything's good before you pack it away for the offseason. Check your edges and base to make sure there's no damage that needs repair. The end of the season is an excellent time to get your edges sharpened and treat your gear to a tune up. Having an experienced ski tech get you prepped for next season is the best way to care for your gear. They will get you tuned up, waxed and ready to roll.
Where to Store Your Gear
You'll want to plan to store your gear in a cool, dry environment for the summer. If you plan on storing your gear in your bedroom closet or under your bed, you should be fine. Stay away from storing your gear in a garage, shed or attic because temperatures and humidity aren't consistent and could lead to damage like rust. Here are some other tips:
No Direct Sunlight
If you plan on putting your winter gear into a storage unit, make sure it is temperature controlled. Be sure to store your skis or snowboard in a neutral position so there isn't any pressure on the camber or rocker.
Get a Ski Bag
A ski bag is a good investment for your skis or snowboard. A quality ski bag will protect your gear from scuffing and rubbing against other gear and help prevent damage by keeping moisture away. Moisture can lead to rust, so be sure to keep your ski bag unzipped a little so that moisture can escape and won't stick to your skis or snowboard.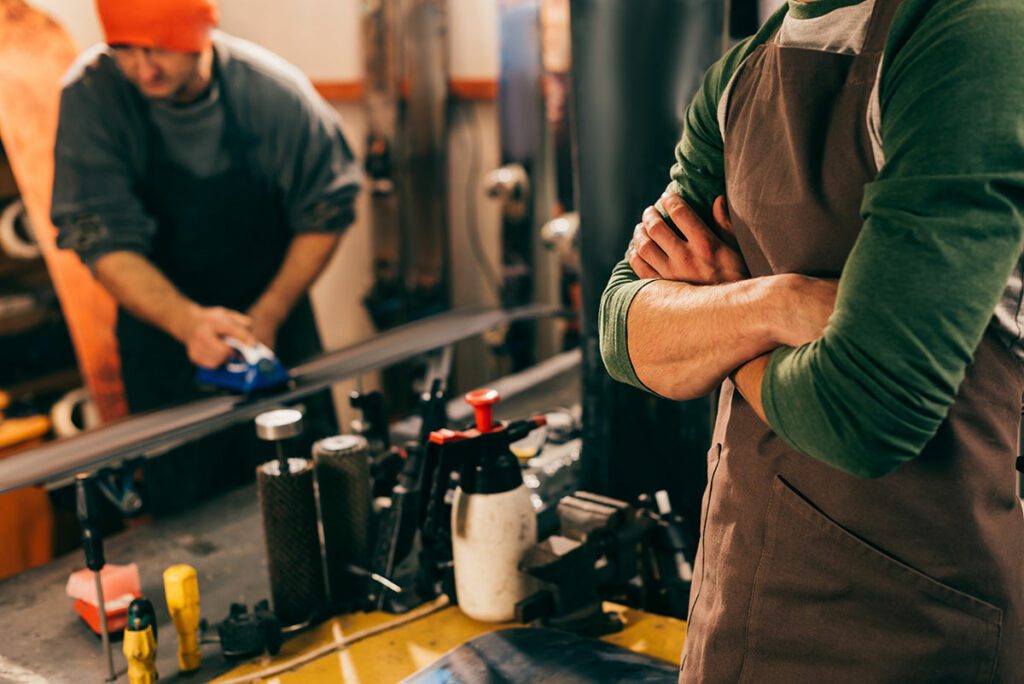 Taking Care of Your Boots
For the most part, boot maintenance over the offseason is easy. First, make sure they are cleaned and function properly. Amazingly, your boots can accumulate a lot of debris during spring skiing. Make sure they buckle tightly and that everything works before you store them for the summer.
Keep your boots buckled when you put them away so they will keep their shape. If you leave them unbuckled, the cuff could warp over the summer.
Check those bindings! Make sure everything is functional and ready for next year. You don't want to get caught up waiting for a ski shop to repair your bindings when the snow is falling. Take care of any binding issues early and you'll be ready to go when the snow comes.
When it comes to storing your boots, make sure you stash them in a safe place. Avoid leaving them unattended in the garage, shed or attic because you never know what might get to them. You don't want to pull out your boots in the fall and find a critter living there! Here are a couple other storage hints for boots:
Remove the Liners
Take out your liners and let the inner shells of your ski boots dry for a few days prior to storing them away for the offseason. (You can also use a boot dryer if you don't want to pull out your liners.)
Slip a dryer sheet or two inside the tips of your boots to keep your liners smelling fresh over the offseason.
Ski Boot Bag
Get a ski boot bag for safe storage. The bag is also a good spot to store your helmet, goggles, gloves and ski socks.
Packing Away Ski Clothes
Following a season of heavy use, it's time to launder all your ski clothes – outerwear, layers, pants, socks, hoodies, liners … all of it! Be sure to read tags when it's time to do laundry. Some ski gear can have specific washing instructions and you might even opt to have some nicer items cleaned professionally. We all know ski clothes can be expensive, so you'll want to take good care of them.
Check for wear and tear on your gear. There are repair kits available, or you may be able to get it repaired by the manufacturer if it's still under warranty. Whatever the situation, you'll either want to get it fixed or buy a replacement for next season. If an item needs to be replaced, now is a great time to do it. You might be able to find this year's top items at a discount as ski shops look forward to next year's models.
Double-check those pockets. Before you wash and store anything, check all the pockets. You might find some spare cash, lip balm or a receipt from a memorable snow day. Checking pockets will also help avoid a catastrophe like erroneously washing an ink pen that bleeds out. Yikes!
Base Layers and Ski Socks
When it comes to the clothes that directly touch your skin, there are a couple of notes about proper way to store ski gear. First, give your base layer, socks and beanies a thorough washing. Line dry your base layers to reduce the risk of shrinkage. Store them inside out so they can dry completely.