Vail & Beaver Creek Ski Rental Delivery Guide
There are several great options for ski rental delivery at Vail and Beaver Creek. With so many choices, this guide will help you navigate to the Vail ski rental delivery or Beaver Creek ski rental delivery outift to rent from. Local outfitters carry all the best ski and snowboard equipment and provide free delivery and a custom fitting. Many shops offer exclusive deals through us right here! This can save you serious money on ski rentals with free delivery. Here are the best ski delivery shops in the Vail Valley that deliver to both Vail and Beaver Creek.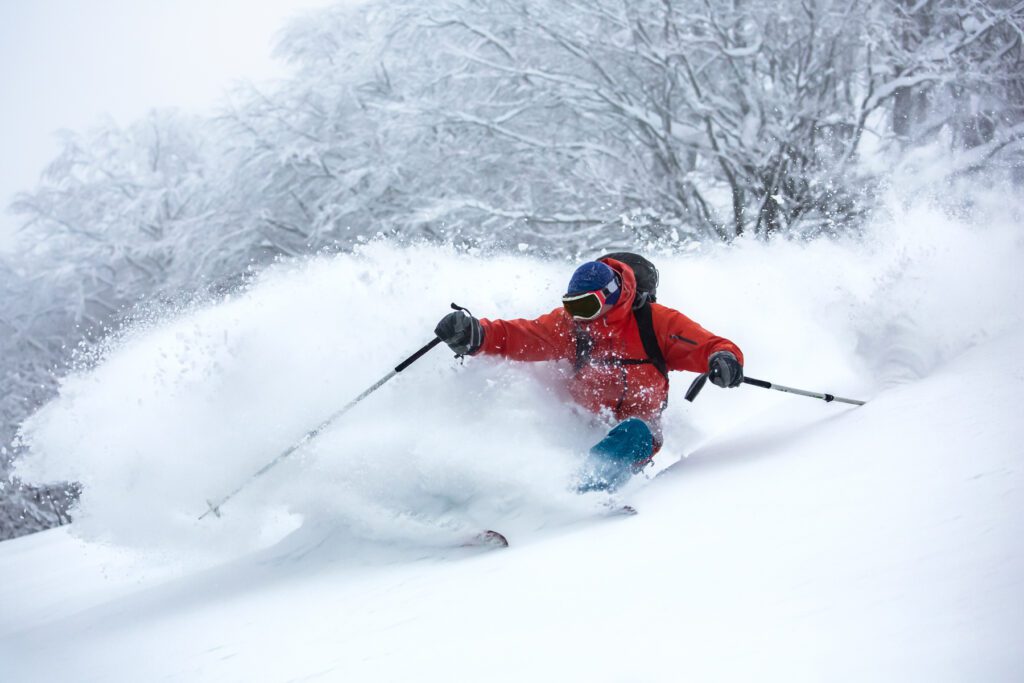 Door 2 Door Ski Rentals
The name says it all: Door 2 Door Ski Rentals brings the best gear right to your doorstep. The company offers consistently low prices and unbeatable customer service in Vail and Beaver Creek. Door 2 Door works in conjunction with Christy Sports, a leader in ski rentals and equipment.
Christy Sports is a multi-state company that has an impeccable reputation for top gear and excellent customer service. There are brick-and-mortar stores in both Vail and Beaver Creek. In Vail, the Christy's Sports retail shop is on Bridge Street. In Beaver Creek, Christy's Sports is on Avondale Lane. So even though you can get your gear delivered for free through Door 2 Door, it's always fun to pop in a Christy's Sports retail store to check out the new gear or buy a souvenir.
You can't go wrong with Door 2 Door. Book your ski rentals online and schedule free delivery for when you arrive at Vail or Beaver Creek. Meet up with your rep and try on different styles and sizes until you find the perfect fit. Don't worry – there's always plenty of options!
Door 2 Door has premier models from popular ski brands such as Atomic, Blizzard, Head, K2, Nordica, Rossignol, Salomon, Volkl and more. There are several sports, demo, premium and junior premium rental packages available.
Ski Butlers
Ski Butlers is one of the most well-known and respected names in ski rentals and delivery. The award-winning company has a reputation for taking care of its clients from start to finish. Guests can first browse the Ski Butlers website and view several ski rental packages that feature the best Rossignol equipment on the market. The website is simple to use and is a perfect one-stop shop to line out your ski gear before you leave home.
Plan to have your gear arrive once you get to your Beaver Creek/Vail hotel room or vacation home. You can schedule your gear to arrive on your schedule, so there's no rushing around. You can relax and enjoy your vacation. With Ski Butlers, there's no need to rush to a ski shop. Your experience ski technician will bring plenty of styles and sizes for you to try. It's just like being in the store but without all the noise, travel and hassle.
Ski Butlers works exclusively with SkierDeals.com on several excellent deals throughout the season that you won't find anywhere else. Booking Ski Butlers through SkierDeals.com means you'll always save the most while avoiding the ski shop rental lines at the same time.
Black Tie Ski Rental Delivery Service
Black Tie Ski Rental Delivery is another big-name company that offers individualized service and exclusive deals through SkierDeals.com. Black Tie started in Colorado and has been a local's favorite for almost two decades. SkierDeals.com always has the best deals online from Black Tie, so it's easy to save on ski rentals and delivery.
The popular ski rental delivery company provides a custom fitting of the best rental equipment, free delivery, slopeside assistance and free complimentary return of gear at the end of your trip. At Black Tie, skiers and snowboarders can choose from top-of-the-line gear from brands like Atomic, Blizzard, Head, K2, Nordica, Salomon, Rossignol and Volkl.
Black Tie Ski Rentals offers free delivery and a custom fitting with every order. They will bring everything you need to your hotel or condo and meet you for pickup when you're ready to go home. Choosing Black Tie means there's no waiting in lines and no stress.
Elite Ski Delivery
Elite Ski Delivery wants you to spend your family time on the slopes and not in the ski shop. The delivery company provides world-class delivered to your door. Yes – you can get the best ski and snowboard gear brought right to you! Elite Ski Delivery is dedicated to exceptional equipment and top-notch service.
Guests can have ski gear delivered to their hotel or condo in either Beaver Creek or Vail. Elite Ski carries a wide selection of skis and snowboards. First, choose from top gear like Atomic, Elan, Rossignol and Volkl in a variety of packages for beginners, advanced skiers and juniors/kids. Then, schedule a convenient delivery in the comfort of your own accommodations. Who wants to trek to the ski shop after you've already travelled all day? Next, get fitted by a knowledgeable ski technician who can answer all your questions and give plenty of recommendations. Remember, many of these ski techs ski the local mountains every day! While on the mountain, have comfort in knowing that service and repair is only a phone call away is something needs fixed or replaced.
Skiers and snowboarders can save on ski equipment delivery to Beaver Creek and Vail with Elite Ski Delivery. The company has some wonderful discounts that are available exclusively at SkierDeals.com. Booking is done in four easy steps.
Venture Sports Delivery Service
Nobody's been doing ski rentals in the Vail Valley longer than Venture Sports. The local outfitter has been serving East Vail to Edwards for decades and is known for its friendly, professional staff. The company has been recognized at the Best Ski Tune in Vail Valley.
Picking delivery with Venture Sports is like having your own private ski shop in the comfort of your own room, condo or home. The best thing is, Venture Sports has exclusive deals available through SkierDeals.com that can save big bucks on rentals.
Venture Sports has several brick-and-mortar stores around the Vail Valley and provides free delivery with all ski rentals. Choose from ski and snowboarding packages online for adults and children. There are some very affordable all-mountain demo, demo and high-performance packages for skiing at Beaver Creek and Vail.
Enjoy all the perks: top brands, free delivery, on-mountain service 24/7 and complimentary pick-up. Venture Sports rents and delivers skis from these popular brands: Armada, Blizzard, Exonde, Head, Kastle, K2, Nordica, Rossignol, Salomon, Volkl.
Another benefit is that there are shops at Vail Village, Avon, Bachelor Gulch, Grand Hyatt, Lionshead and Evergreen, so you can always stop by a shop and check out what's new.

Vail Sports
When you're ready to hit the slopes at Vail and Beaver Creek, Vail Sports can help you out at an affordable rate. Vail Sports has an expert staff that can get you fitted in top brands built for comfort and performance through a rental with RentSkis.com. All guests receive the best customer service and free delivery. The company often features sweet deals right here on our site that can save you more money on ski rentals whether you need Vail or Beaver Creek ski rental delivery.
The ski and board outfitter carries only the best skis and snowboards: Blizzard, Burton, Dalbello, Head, K2, Nordica, Rossignol, Salomon and Volkl. Choose from demos, performance skis, sport packages and junior sets (designed for kids under 12 years old). Sports skis are softer and more forgiving skis that are perfect for beginners. Performance skis are stiffer and perfect for beginners and intermediates who want to rip. Demos are a good fit at any skier level and range from all-mountain to powder.
Beaver Creek Sports
Beaver Creek Sports is a great choice for Beaver Creek ski rental delivery. Find top quality gear delivered to all accommodations in Beaver Creek through RentSkis.com. The free delivery service has plenty of ski and snowboarding packages available with savings through us, here.
Guests can save considerably by booking reservations at least 24 hours prior to arrive at Beaver Creek. You can expect top ski rental brands like Blizzard, Burton, K2, Rossignol, Salomon and Volkl. At your condo or hotel, you'll receive a professional fitting under the watchful eye of a trained ski technician. At the resort, there's even a brick-and-mortar shop at Beaver Creek Plaza, so you can stop in or make a simple phone call if you have any troubles or needs.
Premier Ski Delivery
Picking Premier Ski Delivery is like having your own personal ski concierge. It's the easiest way to rent equipment online. There's great gear and slopeside assistance for the duration of your ski trip. The mobile ski concierge makes rentals easy: You can save money, choose from top equipment packages, and drop off your gear no problem. The company often has savings on SkierDeals.com, too!
Premier Ski Delivery works in conjunction with Charter Sports. A trained ski tech can meet up with your group and provide a custom fitting on your schedule. Techs can answer questions and give advice before you hit the mountain at Vail or Beaver Creek. Your comfort is their No. 1 priority. Select from world-class gear, set up your drop off and pick up, then sit back and get ready for awesome skiing!