Cheap Ski Vacations for Texans
Cheap ski vacations for Texans who love to ski! Next to California, there are more skiers and snowboarders in Texas than any other state in the Union. Since there are no ski resorts in Texas, residents must travel out of state to get on the slopes. Therefore, many ski resorts market exclusively to Texans to earn their business. Below, we dig into cheap ski vacations for Texans and how to find a great deal.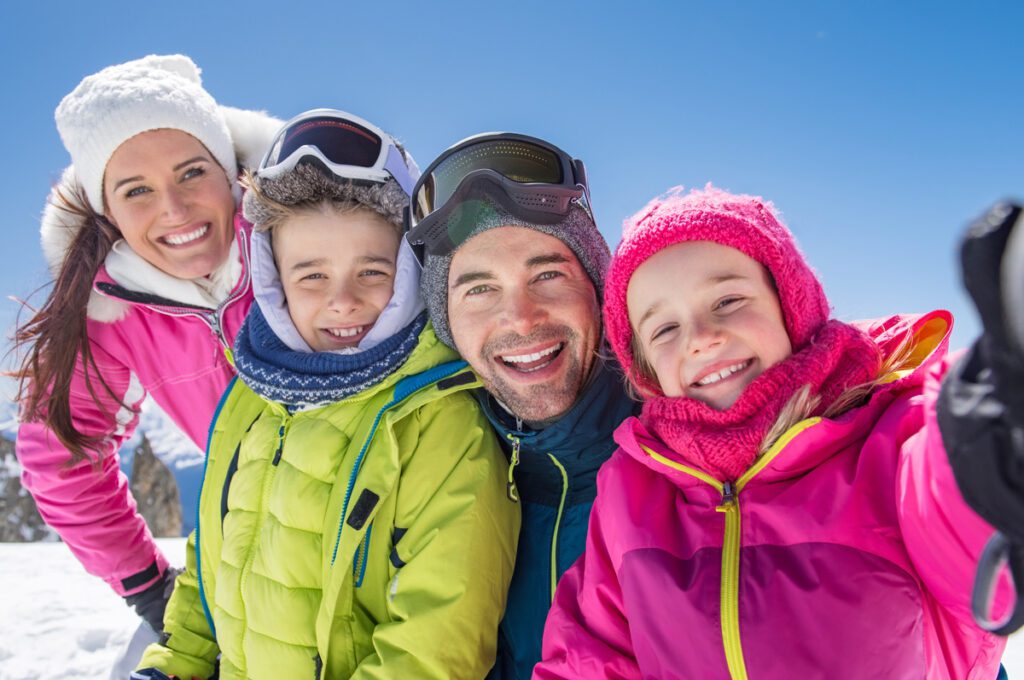 Fly from Dallas/Fort Worth
The easiest way for Texans in the Dallas/Fort Worth area to get to the mountains is to fly from DFW International Airport to either Salt Lake City or Denver. The start to cheap ski vacations for Texans begins with a fairly priced seat on the plane! American Airlines offers several ski flights out of DFW, including daily non-stop flights to these regional ski town airports in the West:
Albuquerque (Pajarito/Ski Santa Fe)
Aspen (Aspen/Snowmass)
Bozeman, MT (Big Sky)
Calgary – Canada (Banff)
Denver
Durango (Silverton/Wolf Creek)
Gunnison (Crested Butte)
Hayden (Steamboat Springs)
Jackson Hole, WY
Montrose (Telluride)
Reno (Lake Tahoe)
Salt Lake City
Santa Fe, NM (Taos)
Spokane, WA (Red Mountain/Whitewater)
Vancouver – Canada (Whistler Blackcomb)
Vail-Eagle (Vail/Beaver Creek/Breckenridge/Copper/Keystone/Arapahoe Basin)
Fly from Houston
Skiers looking to hit the slopes in the West with cheap ski vacations for Texans can fly out of Houston to either Salt Lake City or Denver too. There are two convenient airports in Houston – George Bush International Airport in the north part of the city and William P. Hobby Airport on the south side. (Hobby has some connecting flights to Dallas and other major U.S. cities, but most of the ski destination flights are out of George Bush International Airport.) Houston is a hub for United Airlines, and the airline presents several daily non-stop direct flight options to these regional ski town airports:
Aspen (Aspen/Snowmass)
Calgary – Canada (Banff)
Denver
Hayden (Steamboat Springs)
Montrose (Telluride)
Reno (Lake Tahoe)
Salt Lake City
Vail-Eagle (Vail/Beaver Creek/Breckenridge/Copper/Keystone/Arapahoe Basin)
Vancouver – Canada (Whistler Blackcomb)
Fly to Salt Lake City
Perhaps the best cheap ski vacations for Texans happen with Salt Lake City! Amazingly, there are 10 ski resorts within an hour of the Salt Lake City Airport. If you can score a cheap flight to Salt Lake City, you will have a long list of ski resorts from which to choose. The competitive marketplace around the city means you should be able to find some great savings on lodging, dining, ski rentals, lift tickets and more. Choose from these top resorts:
Alta
Brighton
Canyons
Deer Valley
Park City
Powder Mountain
Snowbasin
Snowbird
Solitude
Sundance

Top 3 Colorado Ski Resorts for Texans
It's easy to get to all these ski resorts on a direct flight, but which one is right for you or your family? Which one delivers cheap ski vacations for Texans? Below we give our recommendations for Texas skiers and snowboarders and provide some detail on how you can save money on your ski vacation. Here are out Top 3 picks for Texans looking for an inexpensive ski getaway:
Aspen: While Aspen has a reputation for being expensive and ultra-luxurious, but it has the most convenient ski airport in the country. Buttermilk Mountain, home of the Winter X Games, is located right next to the airport. The town of Aspen, Aspen Mountain, Aspen Highlands and Snowmass are all less than 10 minutes from the airport, and there's even a free bus in the area. If you are willing to pay for a direct flight to Aspen, you can save by not renting a car or paying for any other transportation. Aspen is a small town, so you can walk everywhere. The Aspen airport has incoming flights daily from both Dallas and Houston.
Steamboat Springs: Steamboat has a Western feel, so Texans should feel right at home. The Hayden-Steamboat Airport is only 20 minutes from town and there are free buses around town, including to and from the mountain. Fly direct to Hayden and skip the car rental. You'll enjoy convenient, epic skiing at one of Colorado's best resorts and still have a few bucks left in your wallet.
Vail: Colorado's largest ski resort is just minutes from the Eagle County Airport. Vail presents two unique options: fly direct to Eagle County or fly to Denver. Denver tickets will be cheaper, but you'll need to arrange transportation like a shuttle or car rental. Try to find lodging in the Vail area that offers free transportation to and from the airport and the slopes and you can save on additional transportation costs. Beaver Creek is also nearby, so there's no shortage of awesome trails and off-piste skiing.
Drive to New Mexico
Don't want to drop all that coin on a roundtrip plane ticket? If you live in West Texas or the Panhandle region, consider hopping in your car and driving to one of New Mexico's top ski resorts for cheap ski vacations for Texans. Sure, Colorado gets all the pub, but the Rocky Mountains extend into northern New Mexico, and there's plenty of powder and epic skiing to go around. Not to mention a rich cultural history off the slopes that's different than any other part of the world.
All nine New Mexico ski resorts are within striking distance from Amarillo:
Angel Fire – 5-hour drive from Amarillo
Cloudcroft – 6-hour drive from Amarillo
Pajarito Mountain – 5-hour drive from Amarillo
Red River – 5-hour drive from Amarillo
Sandia Peak – 4.5-hour drive from Amarillo
Sipapu – 5-hour drive from Amarillo
Ski Apache – 5.5-hour drive from Amarillo
Ski Santa Fe – 4.5-hour drive from Amarillo
Taos Ski Valley – 6-hour drive from Amarillo
New Mexico's Top Resorts
The state of New Mexico offers plenty of challenges to visiting skiers and snowboarders. They also offer cheap ski vacations for Texans. Most ski resorts in the state receive ample snowfall and incorporate extensive snowmaking efforts to fill in the gaps during the season. While most of the resorts are not huge in acreage, they each offer a unique experience with a wide variety of runs for skiers of all levels. Let's take a closer look at some of New Mexico's Texas favored ski resorts:
Angel Fire: Deep in the high mountain valley of the Sangre de Cristo range of the Rocky Mountains is the resort town of Angel Fire. The family friendly ski resort sits at an elevation of 8,600 feet with a summit of 10,677 feet. It has 70 named trails, four terrain parks and a halfpipe.
Pajarito Mountain: The community around Pajarito Mountain Resort is historically known as "The Secret City." It was originally populated by scientist and their families who helped develop the atomic bomb prior to World War II. Today, the scientists are gone, but the secret remains in a new incarnation: The ski resort might just be the best kept secret in New Mexico. The resort provides 300 acres of skiable terrain, including some of the best tree runs in the state.
Red River: The small town of Red River serves up unparalleled skiing and a Victorian era ambiance deep in the Rocky Mountains. Red River has a nationally recognized ski school that's a perfect place for anyone to learn to ski or snowboard. There's no waiting on lifts at Red River, and the terrain provides ample challenges for all levels of skiers.
Sipapu: For more than 60 years, Sipapu Ski Resort has welcomed skiers to the resort about 20 miles south of Taos. The resort is smaller than most at about 200 acres but provides no shortage of excitement on and off the mountain. The resort has about 40 named trails and two terrain parks. About 80 percent of the runs are for intermediate and advanced skiers.
Ski Apache: About 15 miles from the town of Ruidoso is Ski Apache. The resort boasts epic views, 55 named trails and the popular Boneyard Terrain Park. Sierra Blanca Regional Airport just outside of town provides easy access for anyone who wants to fly.
Ski Santa Fe: Hit the slopes just minutes from the historic city of Santa Fe. Ski Santa Fe has about 70 named trails with breathtaking views. The resort can transport more than 9,000 skiers per hour on its seven lifts and the Millennium Triple Chair, so there's no waiting. Off the mountain, take the opportunity to explore the arts and culture of the historic Southwest.
Taos: Last but certainly not least is Taos Ski Valley just 18 miles from the namesake town in the high desert. New Mexico's top resort gets about 325 inches of snowfall annually. Situated in a huge basin, the resort has a European feel a bit like the Alps. The continental freestyle ski resort is known for its epic skiing is a favorite for families, romantic couples, ski groups and weekend getaways.
Finding Deals for Texans
The best way to find cheap ski vacations for Texans is to peruse our site regularly to find deals and discounts that can be used on a ski getaway. SkierDeals.com has current and exclusive deals on ski rentals, lift tickets, lodging, ski lessons, transportation, dining, outdoor activities and cultural experiences at most major resorts in North America.
The best part is that you can snag coupons for savings on every aspect of your vacation! You can also sign up for free giveaways to win some swag or sign up for our newsletter to say informed about all the best deals and savings.