Best Night Skiing in the Western USA
Night skiing is quiet and less crowded, allowing you to indulge your passion for skiing under the stars. But if you don't know where to look, it's not easy to find mountains that offer night skiing, and even more challenging to see a lot of nighttime terrain. There are some great spots all over North America where you can ski and snowboard at night. Night skiing is more common on the East Coast than on the West Coast. Colorado has some ski resorts for night skiing and snowboarding. The rest of the West also has some not-to-be-missed spots. Here's what you need to know about the best ski resorts for night skiing in the American West: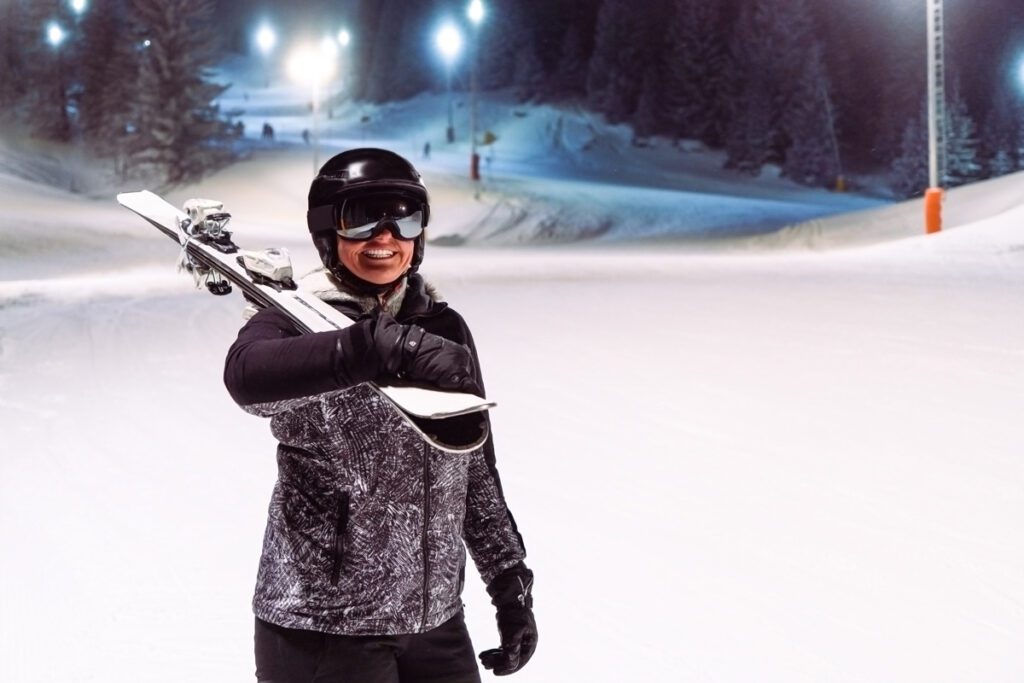 Mount Hood (Oregon)
Mount Hood Skibowl is home to the largest night ski area in the United States, with 34 trails spread over 960 acres of bright terrain, open until 10 p.m., seven days a week. Night ski passes at Mount Hood are inexpensive, even on peak days. Passes are valid for seven hours. So, it's probably not only the best night skiing in America but also the best price in the country!
Steamboat Resort (Colorado)
Steamboat is one of Colorado's most iconic resorts, so it tends to draw some crowds. Luckily, as the sun goes down and the mountain clears, you can enjoy a powder ride without bumping elbows with other skiers. The Christie Peak Express runs until 8:30 p.m., Thursday to Monday throughout the season. Christie Express gives you access to five trails, including some steeper trails for those looking for a challenge. A bonus for travelers: If you fly into Steamboat/Hayden Airport, Steamboat will give you a free night ski pass on arrival.
Howelsen Hill (Colorado)
If you can't make the most of your time at Steamboat Ski Resort, enjoy extra night skiing nearby Howelsen Hill. The resort has intimate night skiing amid twinkling lights and stunning views of the Yampa Valley. The city-operated ski area is regarded as the oldest operated ski area in North America, with 15 trails – the entire mountain – for night skiing. The mountain will get your blood pumping as you traverse an intriguing 440-foot vertical drop in the stars. For an old-school feel, access the slopes with a tow rope. Ski areas usually offer night skiing Tuesday through Friday nights.
Palisades Tahoe (California)
With 6,000 acres and 2,850 feet of elevation, Palisades Tahoe is home to some of the best terrain in California. While not all of its 6,000 acres are open at night, Palisades opens some of its first venues to the public after sunset, the fabled 3.2-mile mountain running track, a twisty trail perfect for those who want to ski nonstop under the brilliant California sky. Night skiing at Palisades Tahoe is open on Saturdays in January, February, and March from 3–6 p.m.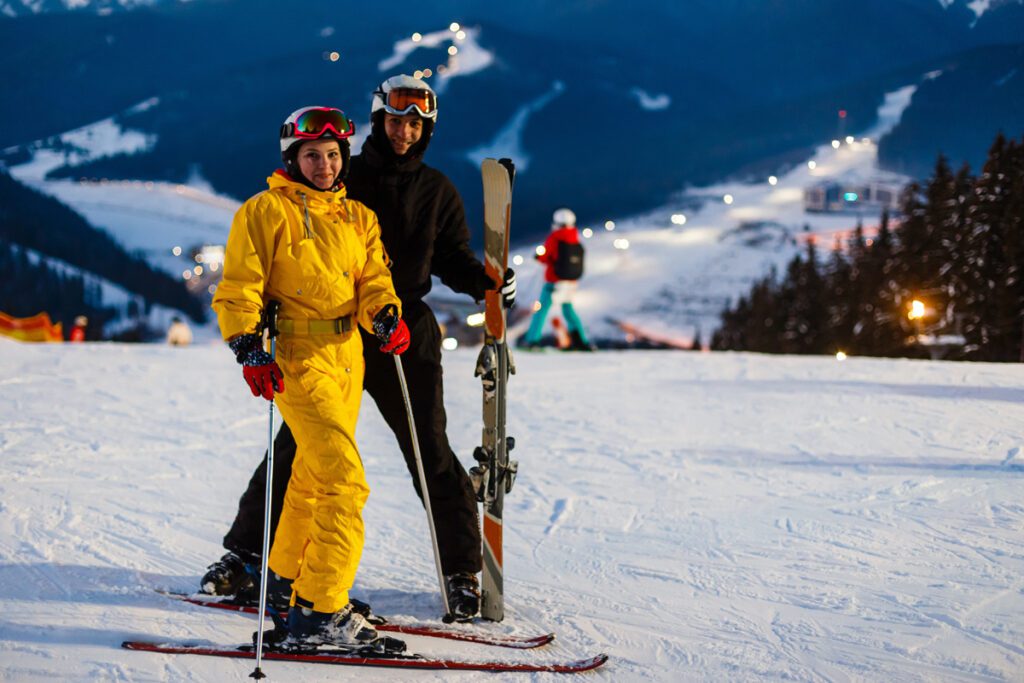 Keystone (Colorado)
About an hour and a half from Denver, Keystone Ski Resort is the largest night skiing area in Colorado. Night skiing at Keystone includes 15 runs and two lifts, Peru Express and River Run Gondola. The lifts are open until 8:00 p.m. on most weekends from December to May. Depending on the weather, the ski area offers night skiing almost every night in March.
The resort is named the best skiing at night in Colorado based on the number of ski slopes available at night, the city's lively après-ski, nightlife, and dining options on a budget. The convenient location close to Interstate 70 and Denver allows for fantastic night ski trips, all-day skiing, and snowboarding fun.
Echo Mountain Resort (Colorado)
Another fun resort to ski at night near Denver is Echo Mountain. The ski area offers night skiing in Colorado from 4:30–9 p.m. Wednesday to Saturday during high season. Echo Mountain has moderately difficult trails for night skiing and snowboarding. According to the resort's website, there is no guarantee that the beginner area will be open. The resort offers adult and child (under 15) night ticket prices. Night season passes are available for those who want to ski more than three times in a season.
Brighton Ski Resort (Utah)
Night skiing at Brighton is one of the West's most extensive night ski areas. With over 200 acres of skiable ground serviced by three lifts, you'll find steep sloped trails and long cruisers. The terrain park is also fully lit so that you can hone your skills under the stars. Children under age 10 ski for free at night. Brighton hosts night skiing every day from early December to April, from Monday to Saturday from 4–9 p.m.
Whitefish (Montana)
It's a little-known secret, but when those late-day storms bring pow-pow, the night riding is divine. At Whitefish, you can ski under the lights on Chairs 2, 3, and 6 and at the terrain parks. Skiing at night is open from 4–8:30 p.m. on Fridays and Saturdays from Christmas Week through early March. The night experience is free for kids ages 6 years and younger.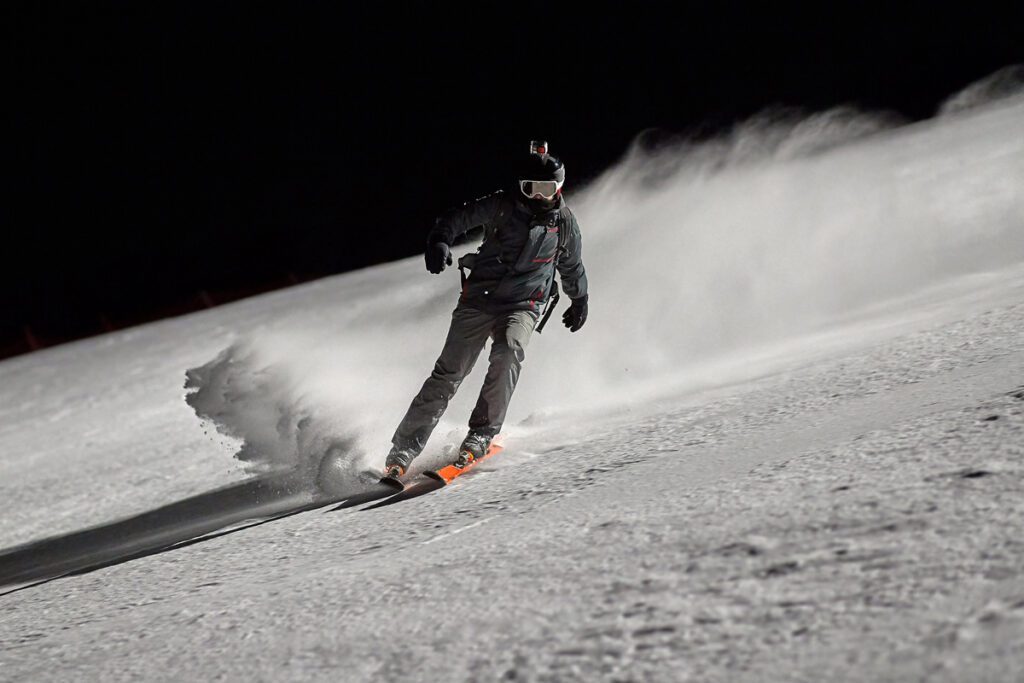 Snow King (Wyoming)
The only skiing at night you will find at Jackson Hole is at Snow King Mountain. The small resort in Jackson comes to life after dark with terrific skiing, unlimited tubing, Cowboy Coaster rides, and other fun evening activities. The Big King Pass offers tremendous value for skiers and boarders who want to experience it all. A bus will take you from the Jackson Hole ski area to Snow King and back.
Schweitzer (Idaho)
Twilight skiing is available at Schweitzer from 3–7 p.m. You can ski and ride the Stomping Grounds Terrain Park or try beginner terrain off Musical Chairs. Night skiing is accessible via the Basin Express high-speed quad and the Musical Chairs double. Skiing at night starts in January and ends in early March. Additional nights are available during Christmas/New Year's Week and other select dates. Tickets are considerably cheaper online than buying at the ticket window on the day you ski.
Granby Ranch (Colorado)
Granby Ranch is a top pick for beginners looking for to ski at night. This is due to its wide, easy slopes and simple design, with all trails converging in the valley area. The family-run resort is located 90 miles west of Denver. It has two mountains with different types of terrain. The night session is open from 5–8 p.m. The base area offers free hot cocoa and cookies in the late afternoon. You can watch snowcats grooming on the mountain before night skiing opens. There is live entertainment and other specials on select nights.