8 Under-the-Radar Ski Towns
Everyone has their favorite North American ski resort. Not just because of the snowpack but because each resort offers something different than the rest. Choosing to visit one of the many unique ski towns and resorts out there can seem like a never-ending search.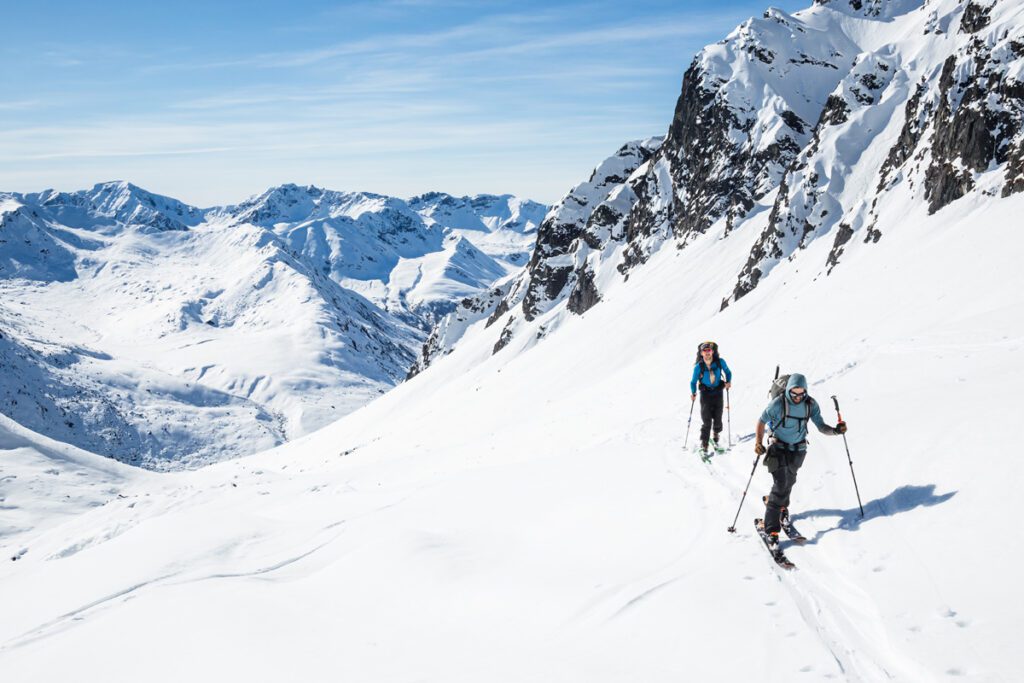 Have you made your mind up on where you'll go this season? There are plenty of options, but the ski towns on this list offer a complete experience to make your ski vacation much more enjoyable. Lucky for you, we've curated our top suggestions for the most under-the-radar ski towns. If you're looking to mix things up a bit this winter, take a closer look at eight low-key hotspots for skiing and snowboarding:
Palisades Tahoe (California)
Palisades Tahoe (formerly Palisades Tahoe, or "Squallywood"), has long been a place of wonder and winter delight at Lake Tahoe. It offers abundant snow and sunny, clear days and has some astounding views, specifically when traveling on their aerial tram ride. The tram soars 2,000 feet above the ground and gives you a bird's-eye view of the entire mountain.
Few resorts offer the kind of deep pow turns and wide-open groomers that Palisades Tahoe does. It's just one of the many reasons why they are incredibly proud of the type of experience they've maintained over the years. From luxurious spa treatments to magical dining and après-ski, Squaw is a paradise for skiers everywhere. Freestyle skiers from around the world have made it their home. Skiers and boarders can experience six mountain peaks and more than 170 trails. Off the mountain, you can visit ski towns like Truckee or Incline which have some great vibes.
Silverton Mountain (Colorado)
Silverton Mountain is one of the most unique ski towns around. Close your eyes for a second. Now breathe in and out. Can you hear that? The great sound of nothing is all around you because you're more than likely one of the only people riding down the mountain. On average, Silverton caps the number of unguided skiers to 475 daily and usually sees less than 80 on the mountain.
The soul of skiing at Silverton is alive and well, making it the perfect getaway for those looking for an extreme challenge. The resort, which only has one chairlift, is unlike any typical skiing experience. The chairlift transports guests into a high-alpine environment ideal for advanced and expert skiers. The lift lines might be short, but Silverton is not for the weary. There's a lot of room to roam with 69 runs, a base elevation of 10,400 feet, and a lift-serviced vertical drop of 1,900 feet. Each skier is required to carry an avalanche beacon, probe pole, and shovel. Rentals for this equipment are available on the mountain and guided tours, as well as heli-skiing, are available.
Alyeska Resort (Alaska)
Anyone looking for deep snowpacks and steep terrain (though maybe not as steep as Silverton) is in luck at Alyeska Resort in Alaska. Skiing in Alaska is an incredible experience, thanks to the expansive landscape in and outside every ski resort. And there are a few differences you'll notice right away when you're there, including how late in the day lifts begin to operate. You won't see them running until 11 a.m., and they typically stop around 6 p.m. Since there's plenty of light during the winter, it's no surprise that the times are just a little different than most other ski towns.
At Alyeska, guests can see the ocean from the peaks of the resort and sleep at sea level – which isn't something you can generally do at any other ski towns. Before getting to Alyeska, you can view iceberg floes and whale sightings along a highway parallel to a picturesque sea inlet.
Mad River Glen, Vermont
Like Alta and Deer Valley resorts in Utah, Mad River Glen doesn't allow snowboarding. And while that is a tragedy, there's more to this fantastic ski resort vacation than meets the eye. Known for being a "place where skiing is still a sport, not an industry," Mad River Glen keeps the spirit of skiing alive through unconventional means. Instead of a giant corporation, it's owned by a co-op. You can purchase resort shares and get a discount on lift tickets and season passes. Talk about a way to keep entrepreneurial endeavors thriving.
Through decisions made by the co-op, the resort has been steadily updated over 15 years but maintains many old-school traditions that have been popular. If you want to take a good stroll down memory lane, ski great powder, and take a break from "traditional" ski resorts, then you'll want to book a trip to Mad River Glen this winter.
Snow King, Wyoming
Known as one of many "town hills" of Jackson, Snow King truly takes the cake regarding its slopes. The resort doesn't have beginner slopes, and 60% of the mountain is expert-rated. Ski hounds will not miss exciting features at the resort, like a 1,571-foot vertical drop, night skiing six days a week, and an ice climbing park.
Locals say that "skinning the King" is the best way to experience the mountain. Going uphill rather than down is its own experience, but one that has specific rules. Their resort holds a stringent uphill policy, requiring all travelers to display their pass or ticket on their person. During operating hours, everyone must stay on the approved uphill routes, allowing more people to enjoy their skinning rather than take a chairlift.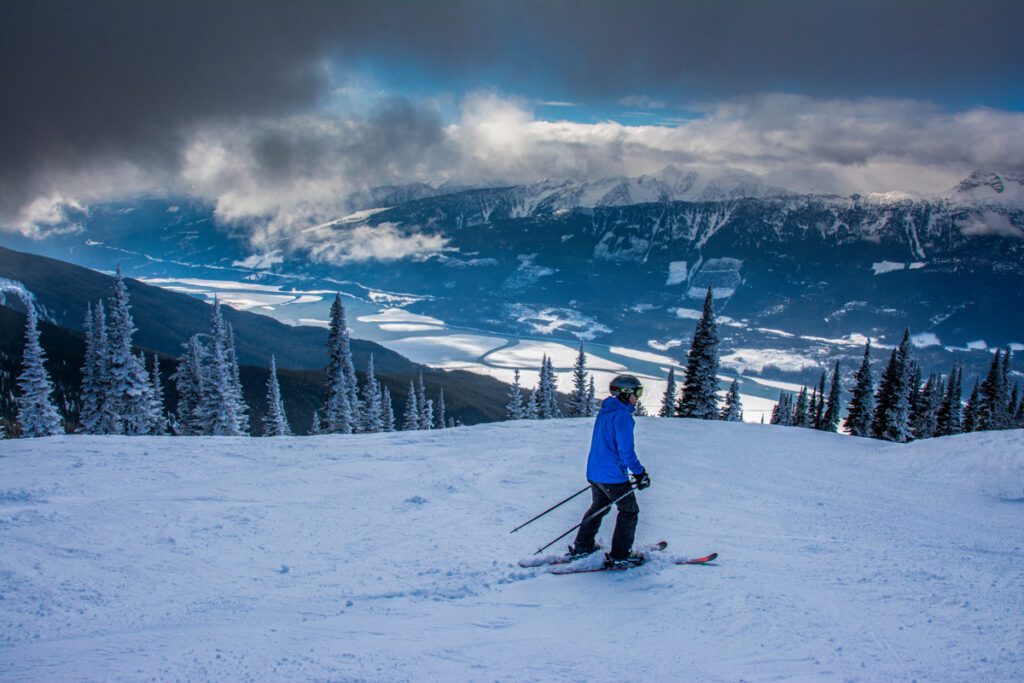 Revelstoke Mountain (British Columbia, Canada)
Open since 2007, Revelstoke Mountain is just a baby ski area. But that's where the little comparisons end. On the mountain, Revelstoke features the most remarkable vertical drop (5,620 ft), an average snowfall of 34 feet, and more than 3,100 acres of gladded terrain. (The resort hopes to expand to an incredible 10,000 acres eventually.)
Revelstoke has many of the things you'll find at larger resorts: dining, mountain tours, and a good ski school. The resort is all about going for the gold. You can sit in the lap of luxury at this ski vacation spot that's pulling out all the stops.
Diamond Peak, Nevada
Diamond Peak is a great spot for families and a terrific location to learn how to ski. The resort has more than 650 skiable acres, seven lifts, and Lake Tahoe's fourth longest vertical drop. The School House beginner chair services a run of the same name for those building up their skills. The towers have been shortened, so young riders and beginners are never higher than 15 feet off the ground. Unloading and loading ramps are also mellow, so kids can feel confident when they're on the mountain.
Adults and those who want challenging terrain can find plenty of options and two terrain parks. Guests can head to the Village Terrain Park or visit the Incline Village. The village is only a five-minute drive from the resort's entrance. You can also hit up casinos like the historic Crystal Bay Club. Or, eat at an assortment of delicious ethnic and lake-front dining, then peek inside one of the specialty boutique stores.
Brundage Mountain, Idaho
For the best snow in Idaho, head to Brundage Mountain. No, really. It's a part of their slogan, and it makes sense that they get to boast this fact. Their powder-packed glades are neatly groomed, and 320 inches of annual snowfall make them the ideal spot to ski. The resort has guided backcountry trips on 18,000 acres for thrill seekers and action junkies to traverse. Guests don't have to wait long for chairlifts, as their lift capacity moves nearly 7,900 riders per hour. Beginner skiers will enjoy Easy Street and the Beartopia Family Fun Zone. Easy Street has incredibly wide groomed runs and is the perfect place for new shredders, big and small, to try.